Jurassic Secret Emu Oil Products
Jurassic Secret pure Emu Oil skin care products feature 100% natural formulas that help control and relieve the itching, flaking, scaling, irritation and redness of scalp and problem skin.
The fatty acid composition of emu oil is very close to the correct composition of the fats found in normal skin and will help to return the skin to its natural barrier function.
Emu oil products can make the skin feel soft, more elastic and firm due the restoration of the normal fats in the skin.
World renowned medical research scientist, Dr. Barry Sears, author of "The Zone": "Emu oil contains an unknown "X" factor that appears to change the hormonal balance in the skin." Dr. Sears is currently researching emu oil in his laboratories.

Dermatologist Esta Kronberg remarked: "I give emu oil to patients with extremely severe problems, such as burns, rosacea, psoriasis, eczema and for general skin improvement treatments."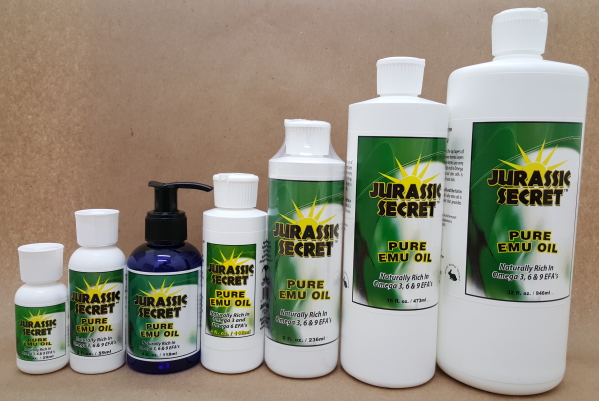 Common Sense or Pantry Size - 16 oz
Save the Environment Size - 32 oz
Dr. Leigh Hopkins, Clinical Professor of Pharmacy, said: "Emu oil has an impact on healing at the derma level. The fact that emu oil appears to help normalize basic cellular functions in so many skin ailments is outstanding."

Dr. Whitehouse and Dr. Gosh, after 25 years of arthritis research say their most potent anti-inflammatory response was from emu oil and oil of wintergreen.

Emu oil is recommended by Louisa Maccan-Graves, Author of Hollywood Beauty Secrets.