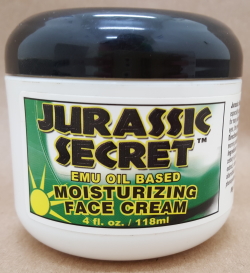 Studies have proven that emu oil face cream can thicken skin.
Our emu cream for the face can reduce wrinkles and age spots.
Rehydrates & rejuvenates your skin. Use it as a restorative for dry, cracked, and wrinkled skin, or as a preventative measure to avoid dermatological issues.
We blend an assortment of plant extracts with the primary ingredient, emu oil, to provide you with the essential Omegas 3, 6, and 9 that you need, to prolong the life of and feed the living skin cells found deep in your dermis layers.
Safe to use all over, including for puffiness and darkness under the eyes, the eye-lids and even the age spots on the backs of the hands
Great when lightly applied under make-up or at night when you get your beauty sleep!
For Men or Women.

View the product label (.pdf)